Restaurant interior design
Do you want to renovate or update your restaurant??
Increase the profitability of your business with an innovative interior design of your premises to offer a complete and impactful experience to your audience.
Today, diners are looking for dining experiences: it's not just the food that matters, but also where they eat and how they eat it. A proper and careful design of your restaurant can transport them to interiors that activate their senses, their emotions and their imagination.
The image makes it unique and also differentiates it from the competition. And if that happens, clearly the profitability of your business will be favored.
At Pepe Gascón Arquitectura - international design studio, based in Barcelona and clients in several countries - we carry out projects for gastronomic spaces based on creative ideas that bring value and business to brands.
We develop comprehensive design projects, from conceptualization to execution, creating successful gastronomic experiences and environments around the world.
Recent restaurant interior design projects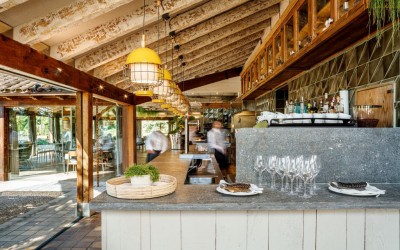 Can Solà Restaurant. Matadepera
Interior Design and styling of a restaurant full of light, color and nature
On the slopes of mount Sant Llorenç del Munt -an area of stunning landscapes- we find the Can Solà restaurant: a refurbished, contemporary and fresh space in an eleventh century traditional farmhouse (masía).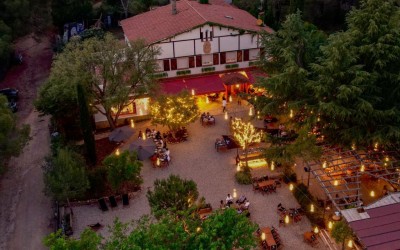 In Boccalupo Trattoria & copas
Redesign and adaptation of an Italian restaurant
In Boccalupo - Trattoria & Copas is an Italian restaurant located at the foot of the Mont-Rodon Mountain, in Matadepera, surrounded by lush nature that makes this outdoor space so unique.
Interior Design and custom FF&E Design of a tapas bar
4 Latas. Branding and strategy of a gastro-bar in Barcelona
Interior design of a bar in Barcelona. The main idea of this bar is that the customer can enjoy a gastronomic experience where drinking, eating and sharing are interlaced.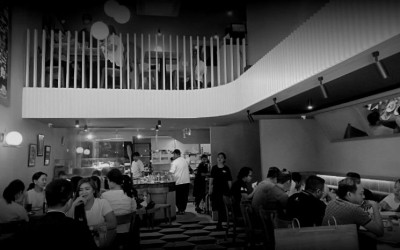 Interior Design and furniture customisation for a restaurant chain
Motorino Pizzeria Napoletana Asia. Generating a recognisable and exportable identity
At the end of 2018, Motorino Pizzeria Napoletana Asia reached an agreement with Pepe Gascón Arquitectura to carry out the interior design of their pizzerias.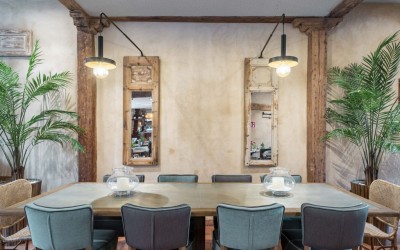 Lantigua Restaurant in Sigüenza
Refurbishment and interior design of a restaurant, focusing on the comfort of its diners
The Lantigua Restaurant is located in Sigüenza (Guadalajara), a town of singular beauty with an episcopal past overlooking the Henares Valley.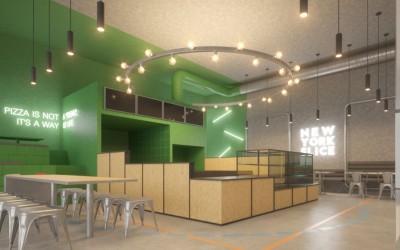 Interior Design for a pizzeria chain with an eco-friendly culture
New York Slice Group. Strategic conceptualisation and branding
The NY Slice Philippines restaurant group, which specialises in serving pizza slices to a predominantly young clientele, has entrusted us with the strategic conceptualisation of their premises.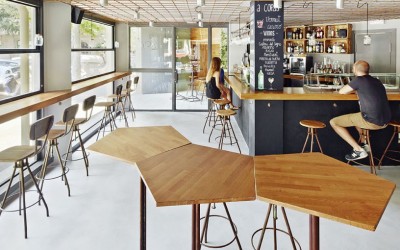 Pentagon table, designed for the Tapas Bar 4 Latas, in Barcelona
Wooden and steel interior furniture in a Bar in l'Eixample
The Pentagon table is high and slender, designed to share food and drink in an informal way around it in the Tapas Bar 4 Latas, in Barcelona.