Architect in Terrassa
Are you looking for an architect in Terrassa?
Do you want to renovate, refurbish, legalise or build a property in Terrassa?
Pepe Gascón Arquitectura has a studio located in the centre of the city, and with a professional career spanning almost three decades, has been contributing to the improvement of the city's built-up area.
We have and/or work with with a large team of professionals in order to be able to respond to the needs of any project: architects, technical architects, engineers, interior designers, structural and lighting consultants, as well as topographers and geologists who may be involved in the construction process.
At Pepe Gascón Arquitectura we support you throughout the project, right from the beginning: we analyse the needs of each client, we carry out the project, we arrange the licence, we offer advice in the search for builders and we supervise the construction work until the end of the project in a satisfactory manner.
Our track record in Terrassa is endorsed and proven by a wide network of satisfied clients who have trusted, and continue to trust, in our experience over the last 30 years.
Recent projects in Terrassa and Matadepera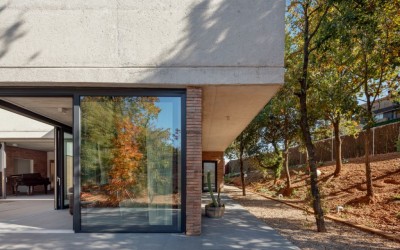 Single-family dwelling in Matadepera
New build house in a natural setting with stunning scenery
This home is located on the slopes of the Sant Llorenç del Munt i l'Obac Natural Park and, therefore, in a setting of stunning natural scenery. It forms part of a low-density residential area, in which a succession of detached single-family dwellings is camouflaged amid the surrounding landscape.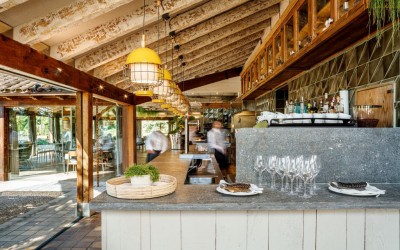 Can Solà Restaurant. Matadepera
Interior Design and styling of a restaurant full of light, color and nature
On the slopes of mount Sant Llorenç del Munt -an area of stunning landscapes- we find the Can Solà restaurant: a refurbished, contemporary and fresh space in an eleventh century traditional farmhouse (masía).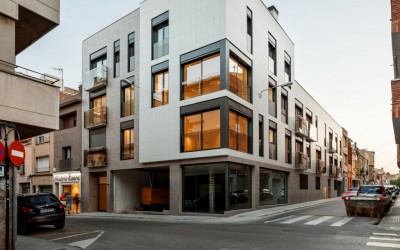 Construction of an energy efficient residential block
Residential building in city center
The residential block is located in Terrassa city center (Barcelona). It is a rectangular plot on the corner of two roads, one of which is very busy.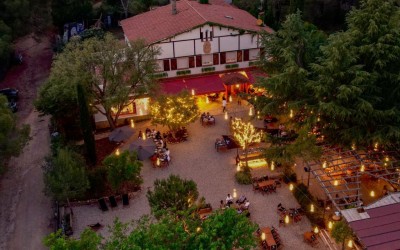 In Boccalupo Trattoria & copas
Redesign and adaptation of an Italian restaurant
In Boccalupo - Trattoria & Copas is an Italian restaurant located at the foot of the Mont-Rodon Mountain, in Matadepera, surrounded by lush nature that makes this outdoor space so unique.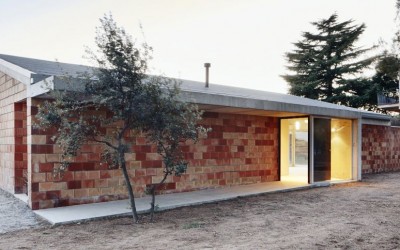 Barbacoa house. Design of a single house with a low-density type of terracotta brick
Construction of a house with a low-cost budget in Terrassa
Constructing of a house with a low-cost budget, formalized with a wall made of a low-density type of terracotta brick that unite structure and finishing.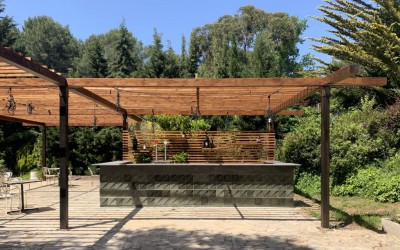 Outdoor restaurant bar
Outdoor pergola with wooden slats
Project involving the construction of an outdoor cocktail bar in the garden of a restaurant, consisting of a bar and a structure that functions as a green roof canopy. A pergola arranged in an "L" shape thus takes into account the space designed for the bar, as well as the table area.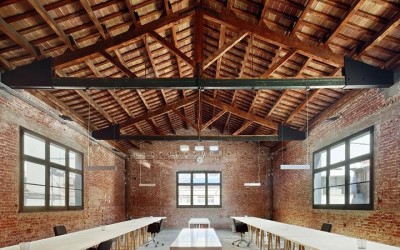 The factory. Conversion and conditioning of an industrial block
Office in a renovated industrial building in Terrassa
An industrial building in the premises of an old early twentieth-century textile factory in Terrassa, a leading city in Catalonia's textile industry, has been refurbished and equipped as an office.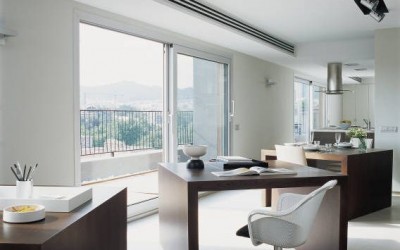 Interior Design of a duplex attic with terrace in the city centre
Penthouse apartment with great views in Terrassa
Refurbishment of a duplex attic apartment in Barcelona, whose floors were originally not connected. It is a rectangular, long, narrow and highly compartmentalised space, which called for unitary organisation with a sequential layout of spaces.
Home offering views to Vallparadis Park
Change of use from an office to a home in Terrassa
Interior renovation and change of use of an office, converting it into a home. The property is located opposite the Vallparadis park – an important urban park in the city of Terrassa – and the entire process has been carried out with the aim of opening up views and visuals of the park.